Guided Whitetail Hunts Eastern Colorado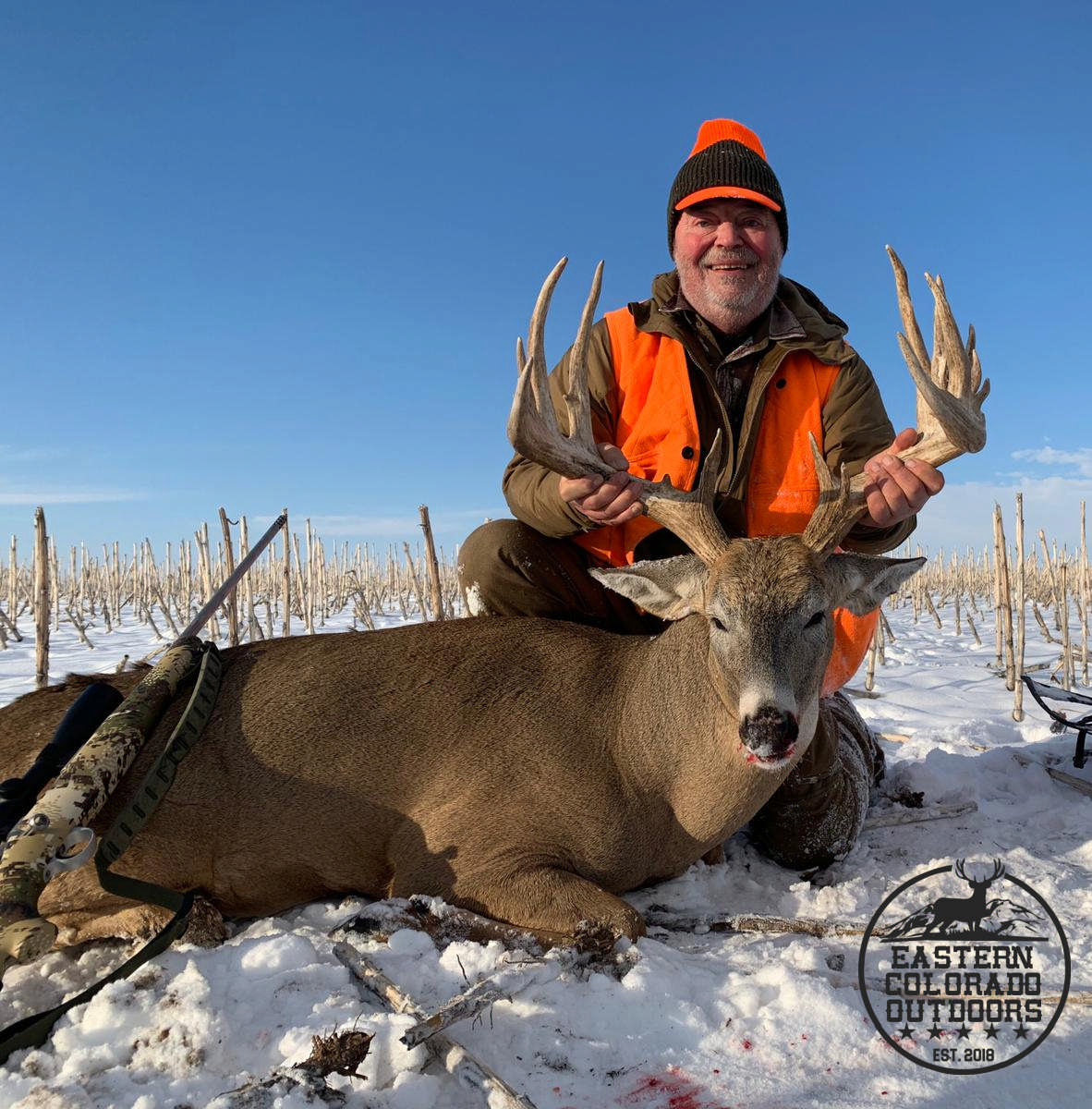 Guided Whitetail Hunts in Colorado
Eastern Colorado Outdoors offers leases that hold trophy class whitetail deer. The eastern plains of Colorado have many areas that hold both whitetail and mule deer. The whitetail hunts can take on a completely different terrain. We have access to ground that has creek bottoms with cottonwood and elm trees that will allow the use of tree stands. These areas can be highly successful during the rut for the bow hunter. Deer will cruise up and down these bottoms in search of the hot doe and it can be the ideal place to set up for an ambush. Depending on the location, blinds can come in to play at times.
Looking for an extreme Colorado whitetail hunt? Try a spot and stalk hunt, pursuing the savvy whitetail on his terms on the Eastern Plains of Colorado. We also have many acres that make for a challenging hunt even with a muzzleloader or rifle due to the abilities of the whitetail deer. Whitetail deer can be found in the 140-150 class and on occasion we see bucks in the 160-180 class.
We also can offer some whitetail hunts for the 110-130 class, with an occasional opportunity at a 150 class buck. There are areas where the whitetail is driving the mule deer out, due to their species being so aggressive in nature. Areas that just 15 years ago held only mule deer are now holding 50% whitetail. The ranchers and farmers in these situations, along with ECO would rather the whitetail numbers be lessened to allow the mule deer to once again thrive. So in an attempt to help protect our mule deer population we will aggressively harvest whitetails which can still be a very exciting hunt. These hunts can be taken advantage of many different ways.
Colorado Whitetail Season & Dates
Archery:
Sections 105, 106, and 107
October 1-23, November 4-30, December 15-31
Sections 111, 112, 113, 114, 115, 120, and 121
October 1-23, November 4 – December 31
Muzzleloader:
All Sections
October 10-18
Early Rifle:
All Sections
October 24 – November 3
Late Rifle:
Sections 105, 106, and 107
December 1-14